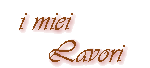 "Cimelio dei peccati" 2000 Oggetti vari uniti a decollages, plastica trasp. pittura su legno di abete

Heirloom of the sins 2000 Objects you launch united to decollages, plastics transparency painting on wood of fir, cm.30x35.
This Icon, and has been exposed since 5 to November 10 th 2003 to the show "Praise to the small format in today's art" organized by the Centre culturel Christiane Peugeot in Paris (France).